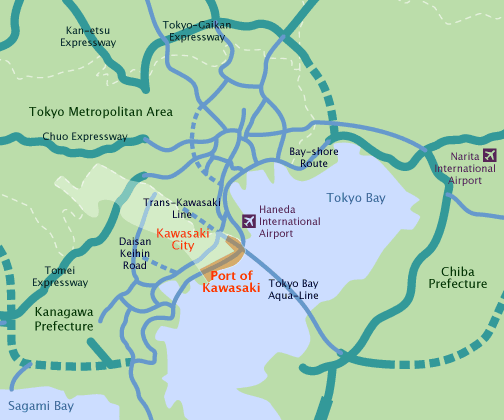 The Port of Kawasaki maintains an expansive network of roads connecting it with the Trans-Tokyo Bay (Aqua Line), Tokyo Bay Shore Route and the Trans-Kawasaki (currently under the plan for construction) Expressway, providing quick, convenient access to anywhere in the greater Tokyo Metropolitan area and Japan as well. The Higashi-Ogishima island district, located in the center of the port, has two interchanges to and from the Tokyo-Bay-Shore Route Expressway, linking the port's major wharves and distribution centers directly with area expressways.
In addition, with the completion of a deep-water container terminal designed specifically for ocean-going vessels, the port's commercial functions and role as international trade harbor have been greatly expanded, resulting in a large economic stimulus to Kawasaki's coastal area from the added cargoes handling and storage capacity. Its close proximity to Haneda and Narita International Air Ports also allows the port to handle large volumes of airfreight cargoes as well.
With its excellent geographic location and direct links via land, sea and air ensuring the smooth, cost-effective flow of goods and commerce throughout the Kanto region, the port of Kawasaki is considered one of Japan's most important locations for commercial shipping and logistics.